How does our denting and painting repair work?
Cars are prone to dents and scratches. So, If you are looking for fast denting and painting repair for your car and are very possessive about it, then you have come to the right place.
At My GadiMaster, we are incredibly proud of the work we do and the way we take care of your vehicle. We use only high-quality products and services from our service center, We use the correct gloss, paint texture, and finish for your car. We take great care to ensure that the process runs smoothly and hassle-free, and ensure that your satisfaction is a top priority.
Our team will get your car back to its original condition no matter what the make or model is! With our comprehensive denting and painting services, we fix car scratches, car paint damage, car bumper damage, and more. We have the latest equipment technology and trained technicians to restore your paint job's original appearance and feel. You can count on our expert mechanics for any car body repair service, whether it is a small scratch or a huge dent.
Services Offered
Body Coat Application
Clear Coat Application
Painting
Rubbing & Buffing
4 layers Painting
Opening & Fitting Job
Heat Chamber Paint for Premium Finishing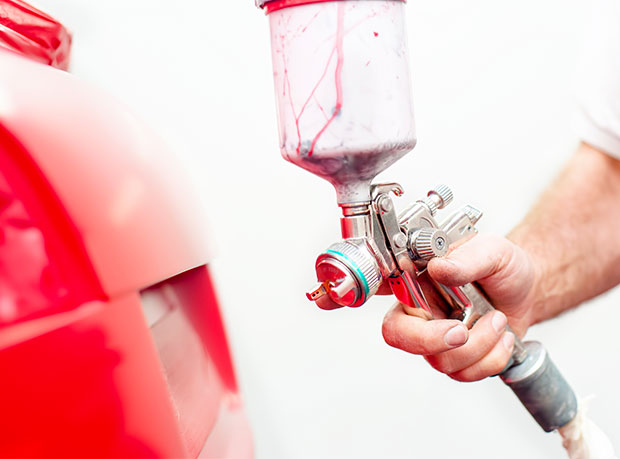 Benefits of using our services
Luxury Car Service

We offer top quality premium auto repair, maintenance service to our wonderful customers.

Color Match Guarantee:

The exact match of colors is made with advanced color matching equipment.

Comprehensive Warranty:

You will receive a warranty on the car's repairs and services.

Professional Service:

We provide professional, well-trained, and dedicated assistance with car problems with real-time updates on the status of the car repair service.

Multiple Payment Mode:

Credit and debit cards, Paytm, UPI(Phonepe, Bhim UPI, Google Pay), etc.

Customer Convenience:

Our free pickup and drop-off service and doorstep car service are available at the convenience of the customer.
1. Is it possible to fix any dent?
It is possible to repair any dent, depending on its severity. In any case, we follow the repair procedure based on the advice of our expert technician.
2. Will it be guaranteed to be completely removed during the Denting and Painting process?
Yes, definitely! Most customers, even those with large dents, are surprised by the results after we repair them.
3. What are the steps for booking a dent service with Gadi Master in Pune?
Booking with Gadi Master for dent service is easy. We just need your car model or make the service package you prefer, and a time slot for your service. That's it!
4. Is it necessary to drop off my car at the workshop?
Gadi Master is conveniently located around every corner of the country. You can still take advantage of the FREE home pick-up and delivery service. Simply relax and let us handle all the details!
5. How long does the Entire denting and painting repair Process Take?
In general, it will take 3 days to complete the work in a panel package, but it will take longer when it is a full body.
Searching for the best Car workshop? Then My GadiMaster is your one-stop destination.
Call us now: +91 96 0421 0421